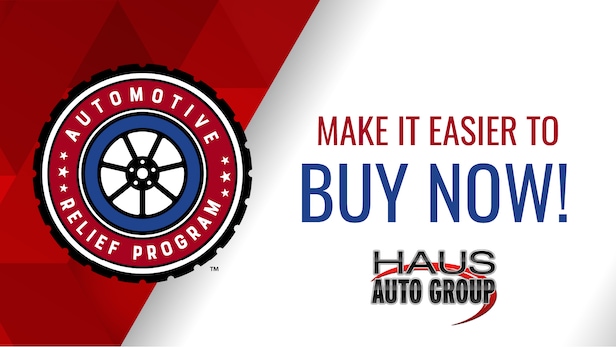 In these uncertain times, it may be hard to find something to rely on. We're here to assure you that you can always turn to our used car dealership to provide you with unmatched peace of mind. Our Automotive Relief Program is here to put your mind at ease with the promise that we'll get through this - together.
What is the Haus Auto Group Automotive Relief Program?
When you're ready to get behind the wheel, our used car specials are here for you.
Conventional Oil Change Special

Military and First Responders Discount
To find out if you're eligible, get in touch with one of our helpful team members. We look forward to helping you in any way we can.
Safe & Sanitized: Services to Put You in the Driver's Seat
Your health and safety are our top priority. That's why we're putting our community first with our at-home services. Whether you're in need of a reliable used car or service to keep your vehicle in tip-top shape, we'll take care of you. 
When it comes time to shop for your daily driver, our online retailing tools are here for you. You can shop for and order your next vehicle from home! 
If you find yourself in need of service, we offer free pickup and delivery. You won't even have to set foot in our dealership! 
In terms of sanitation, our used car dealership is thrilled to announce our use of Permasafe Protective Coatings. Permasafe is a state-of-the-art, vehicle disinfection, and long-term microbial control system surface protectant engineered specifically for automotive use. 
No matter your needs, we are here for you.
Take On Any Journey With Haus Auto Group
As we traverse these winding roads, you can do so with confidence knowing that a reliable used car from Haus Auto Group will see you through. If you have any questions about our Automotive Relief Program, don't hesitate to contact us today.
This Page is Powered By The Automotive Relief Program™ an offering from PCG Digital